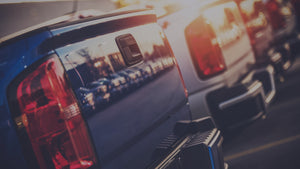 Truck Bed Organizer
Installation Instructions
Installing a truck bed organizer from Last Boks is an easy and effective way to keep your truck bed organized and free of debris. With Last Boks, you can transport and store items such as groceries, tools, golf clubs, and more. 
Getting started with Last Boks is as easy as opening the box. Made from a single piece of durable and water-resistant plastic, Last Boks is designed to fit most truck beds and comes with easy-to-follow installation instructions. If you're in need of assistance with your install,
give us a call!
Truck Bed Organizer Components
Our truck bed organizer consists of three easy-to-use components that are quick to install:
Bed component
Anchor Hook
Tether Strap
Installation Instructions
Begin by laying the Last-Boks flat in the bed of your truck. Next, take out the tether strap and anchor hook. Pull the tether strap through the tether strap slots on the side of the truck bed organizer. You will use the anchor hook to attach the tether strap to your truck tie-down.
Pull the tether strap taught and secure with the easy-to-use latch, which allows the strap to move through as you tighten, and then holds the strap in place with serrated teeth. If you need to adjust or remove the truck bed organizer, simply pull the tab to release the clamp.
Thanks to its slide-resistant design and sturdy installation, Last-Boks will stay securely in place as you drive around. Unlike other truck bed organizers, Last-Boks requires no additional tools or hardware and will not scratch or damage your truck bed.
Contact Us With Any Questions!
Installing a Last-Boks truck bed organizer is a great way to keep your truck bed neat and organized. With its easy installation and secure design, Last-Boks is the perfect solution for transporting and storing your items in your truck bed. If you encounter any issues with installing our product, get in touch! We are committed to 100% customer satisfaction, and we're here to help.